UEFA Champions League Trophy: Thomas Tuchel Finally Opened Up On Victory.
The UEFA Champions League for the 2021/2022 season kicked off on Tuesday being the 14th day of September 2021, as many elite clubs began trading tackles in a bid to fight for the elite title. Among the matches played was the Blues 1-0 win against Zenit
Many elite clubs also emerged as winners while some were losers on the conclusion of the opening matches,  as the second phase of the UEFA champions champions title race ended on Wednesday the 15th September 2021.
But the manager of the defending champions, Thomas Tuchel revealed in an interview on Chelsea football club TV that Chelsea team were not really the favorites to lift the title last season. He emphasized that they were many other favorite clubs to win the title, but Chelsea won because they had luck on their side.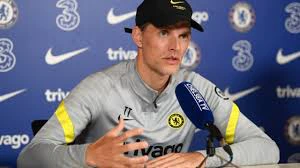 Tuchel divulged that there were other good teams that were very good enough and even more tactical than Chelsea but those clubs were unlucky.
"Believe it one not, I think there were so, so many teams who would have won the UEFA champions league last season. There were so many teams with good players, good coaches and are strong too but we had a bit of luck on our side. And hopefully we won at the finals and emerged as the Champions," said Tuchel.